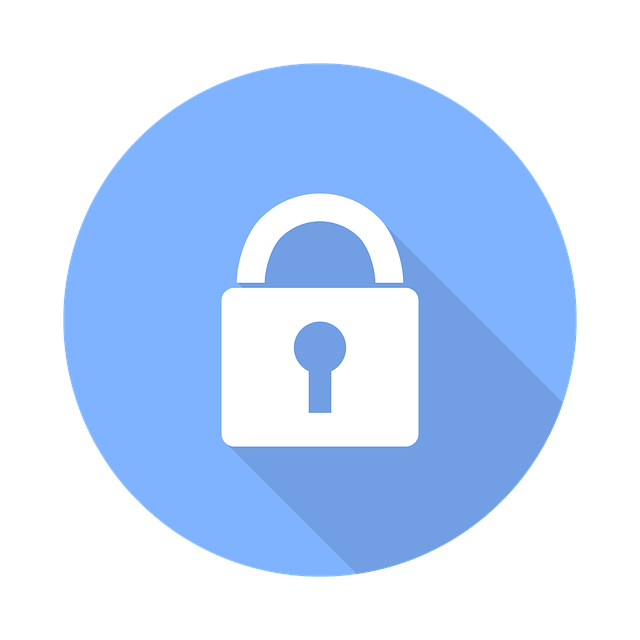 On Wednesday, August 2nd, Digicert announced the acquisition of Symantec's Website Security Business branch (including SSL business, and some other services). It's the direct consequence of the conflict opposing Symantec to Google for a few months.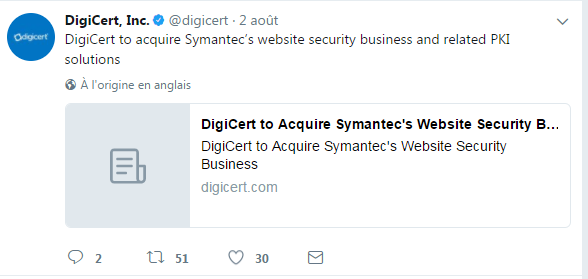 You have certainly already heard about this disagreement opposing two companies on a certain number of certificates issued by Symantec and the possible loss of trust towards these certificates in the next versions of Chrome. Many information and dates have been flowing on this subject, sometimes contradictory, it can be sensitive to evaluate the impact on your own certificates.
Nameshield as a Symantec's Platinum partner, has followed very closely the development of this case to ensure that its customers and partners don't risk to be impacted and suffer from a loss of trust within their browsers. The very latest developments of this case lead us to communicate the following important information:
What happened?
Google and Symantec had a dispute in 2015, Symantec's teams taking for example certificates often based on the CN google.com, by really issuing them to delete them afterwards. It was objectively a mistake and Google has sanctioned Symantec by making compulsory the subscription of all certificates within the Certificate Transparency base, which since became the market standard and a mandatory for all Certification Authorities. This decision was effective on June 1st, 2016.
At the beginning of 2017, Google and Mozilla announced the discovery of 127 Symantec certificates with irregularities, leading to a thorough investigation from Google, which would have found nearly 30 000 impacted certificates. Google decided to severely sanction Symantec by reducing the certificates' duration to 9 months and by deleting the EV status for Symantec certificates in a very short period. Symantec has immediately reacted by sanctioning 4 partners who were at the roots of the errors. Many discussions between the two groups, and with many important actors of the industry, took place since March 2017. A part of these publications, proposals and counter-proposals has created confusion.
These different discussions have led Google and Symantec to an agreement on a method and a transition calendar towards a new PKI infrastructure for Symantec. Google officially communicated on this subject on Friday, July 28th. This communication can be consulted here.
Symantec is committed to create a new PKI infrastructure in collaboration with a third party to prove its good faith, answer to the transparency requirements of Google and maintain the high degree of trust which has always benefited the group from the web users. This infrastructure change will take place on December 1st, 2017 and will require the replacement (or if any, the renewal) of all the existing certificates for Symantec brands, Thawte, Geotrust and RapidSSL. This extended deadline will allow a smooth transition, without impact on web users.
Since August 2nd, we know that this trusted third party will thus be Digicert.
What Calendar?
Google distinguishes Symantec certificates issued before June 1st, 2016 from those issued after this date (Mandatory subscription in Certificate Transparency). The loss of trust in these two categories of certificates will arrive through two different versions of Chrome, hence the following calendar:
– Category 1: Certificates issued before June 1st, 2016, will have to be replaced (or renewed*) between December 1st, 2017 and March 15th, 2018 (arrival of the beta Chrome 66)
– Category 2: Certificates issued between June 1st, 2016 and November 30th, 2017, will have to be replaced (or renewed*) between December 1st, 2017 and September 13th, 2018 (beta Chrome 70 arrival).
The eventual emergency communicated by the different market actors is therefore not relevant.
*anticipated renewal: a renewal can be done until 90 days before the expiration date of a certificate, without penalizing the duration of the new issued certificate.
Are you impacted?
Yes you are, if you dispose of certificates issued with one of Symantec brands (Symantec, Thawte, Geotrust, RapidSSL) through Nameshield or other providers with whom you would be working. All that remains is to distribute them in the two mentioned categories. We could help you identify the eventual impacted certificates and their distribution in the right categories, in order to plan the actions to carry out from December 1st, 2017.
And Digicert in all this?
Digicert is an American company, of which the actual market share represents 2.2% of the world market, based on the last report of W3tech. It's a company renowned for the work quality of its authentication team and its conformity with the CAB forum's Baseline Requirements. Digicert is regularly growing for several years on serious values and manages certificates portfolios of very important companies and websites around the World.
Digicert will become a major actor of the certificates market, by taking the 14% of the global market shares of Symantec. More interesting, the 40% of market shares on EV certificates and 30% on OV certificates which represents Symantec.
On paper, this acquisition is good news for all the Symantec customers. It's a guarantee of continuity in the quality of provided services. It's the guarantee of a successful transition towards a new PKI infrastructure requested by Google. It remains to monitor Digicert capacity to respect the calendar imposed by Google, we will closely monitor this.
What does Nameshield think of this?
Nameshield trusts Symantec and its teams for several years. On one hand, for its quality of service, which allows us to provide you a service of first level and on the other hand for the brand image and the trust created by this group to the web users. The management of this Google/Symantec crisis doesn't question the trust we have in this partner, and whose support remains irreproachable.
Furthermore, we were for a few months, in relation with Digicert to extend our solutions portfolio, we welcome this acquisition announcement like a positive news for our customers and partners, by being confident on the continuity of the services we could offer you. It means that the trust you place in us is primordial and if you want to move in a different direction, Nameshield remains at your service to propose alternatives to you.