Chrome 53 launched on 31 August 2016 and with it Google is continuing its offensive for a safer internet.
With its Chrome navigator, Google signals even more clearly when as site does not use httpS on its landing page. And the version to come will continue in this vein barring purely and simply HTTP with a Red cross. This 'ugly defacement' will be difficult to accept on corporate websites, in particular well-known brands.



Firefox has already announced a similar measure. Add to that the httpS as an additional factor in SEO and the inclusion of httpS for personal data entry pages in the results for Google shopping, if you have not yet considered it, it's time to prepare to migrate your web site to a more secure environment.
Why adopt HTTPS now?
It is becoming essential.
It is good for your online image, especially with Extended Validation (Green Address bar).
The transition from HTTP to HTTPS is becoming more pressing and it is better to prepare for it now rather than as a matter of urgency.
What will the navigation bar look like in January 2017?
On the pages of websites offering HTTP password entry or accepting credit card details there will be a small warning graphic and will feature the text "Not Secure".

Going forward, What Chrome proposes to display
For all websites, Google's ultimate goal is to display the not secure wording for all HTTP pages.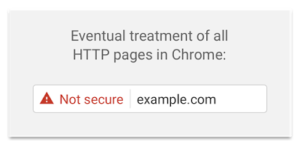 Source : https://security.googleblog.com/2016/09/moving-towards-more-secure-web.html
The Nameshield team can assist you in selecting the most appropriate SSL certificates for HTTPS, contact your account manager to discuss.