Schmidt is one of the first French brands of kitchens, but also the first kitchen furniture export company in France.
Schmidt group has decided to launch its new website in « .brand » (dot brand), .schmidt and thus has joined many big companies which have made this bet, like BNP Paribas (mabanque.bnpparibas), MAIF (voyagepro.maif), Club Med (corporate.clubmed) or the latest, SNCF (oui.sncf).
Schmidt chose to regroup its activity under the « home design » designation which describes well its industry. The company is not only dedicated to the kitchen world but also proposes bathrooms and "custom-made" furniture for the entire house: dressing, TV furnitures… all with a design touch.
The domain name home-design.schmidt allows on the one hand, to optimize the SEO and on the other hand, to facilitate its development and its international communication. After its launch in Great Britain at the end of April, the website arrives in Belgium, and will continue with Spain, Italia and Switzerland by July the 4th.
The domain name home-design.schmidt is easy to recognize and to remember for general public.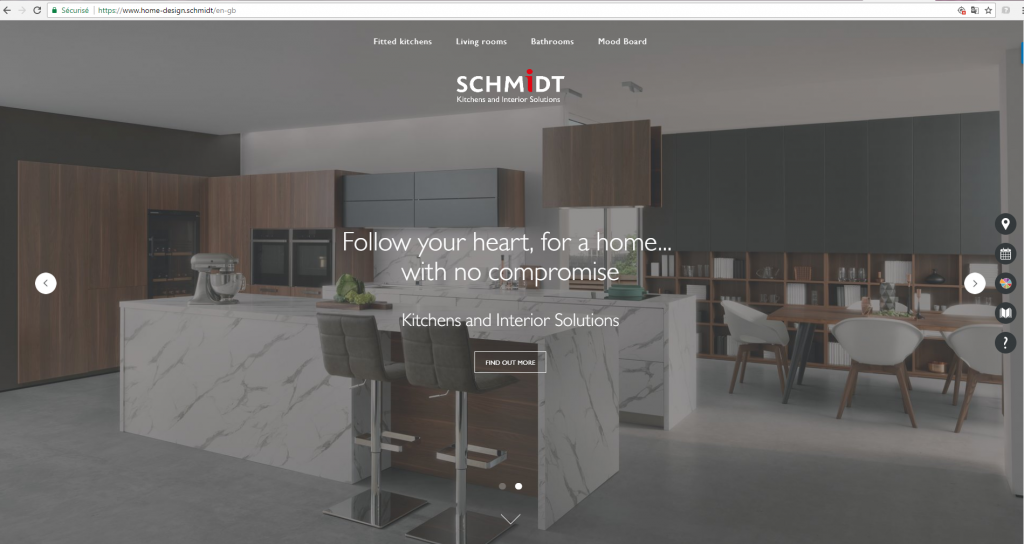 But what is the benefit for brands to have their own extension?
In 2013, some companies (including some thirty French companies) wished to have their own « .brand » extension, in order to capitalize on their leading brand. Most of them wanted to secure and protect their naming spaces (to limit intermediaries in the chain of actors involved on a domain name registration). The purpose is also to have a domain name really distinctive and reassuring for the final consumer. The brands fight against cybersquatting, but this is an endless war. It represents an important annual budget and doesn't limit the damages enough. The message of the brands owners of a « .brand » (dot brand) is the following: If you're not on my « .brand » website, then you don't buy the products or services of my brand.
This practice to communicate in « .brand » isn't known enough by the general public. Of course, the consumers' awareness should be increased in order to use extra caution during their navigation, and that means the domain name verification.
So having its « .brand » is a differentiating factor and will be more and more used for marketing purposes.