McDonald's! The symbol of globalization: from the invention of the express service by the eponymous brothers to its successful franchise by Ray Kroc (I recommend the film 'The Funder'), McDonald's is an example of post-war entrepreneurial success. The BigMac, the Filet o'Fish? These are the inventions of franchisees that headquarters have agreed to develop throughout the world. A model of innovation.
What about their digital strategy? When Internet arrives and everyone talks about it, a Wired reporter contacted McDonald's to explain that Burger King could record mcdonalds.com. McDonald's will not register it. Then the reporter does, the US firm tries to recover it and will donate 3500USD to a school in order to buy computer equipment.
Once bitten, twice shy. As a result, McDonald's is creating a preventive policy of registration of domain names: goldenarches.com, mcd.com, bigmac.com, …
If RayKroc.com and mcdo.com are already cybersquatted, the implementation of a defensive registration policy has begun.
Thus, when the new gTLD program is launched in 2012, McDonald's is a candidate and wins the .MCD and the .MCDONALDS (MCD is used internally for e-mail).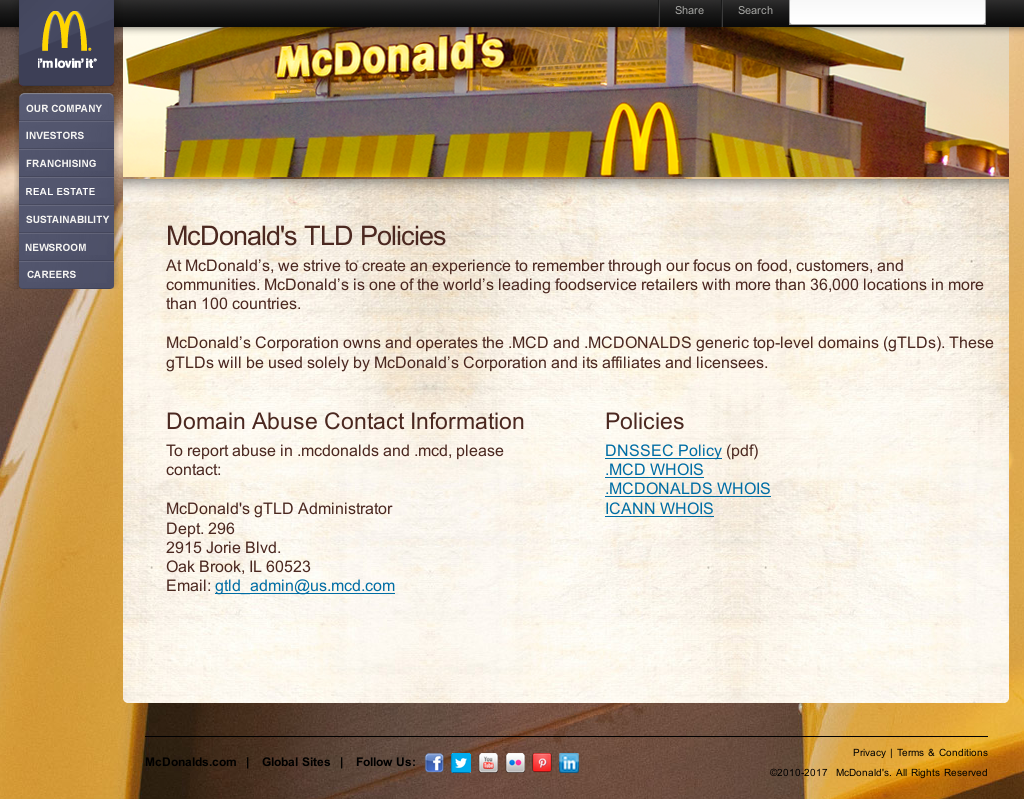 We note the weak development on the home page of the .MCD, which is limited to ICANN's obligations regarding the presentation of the TLD.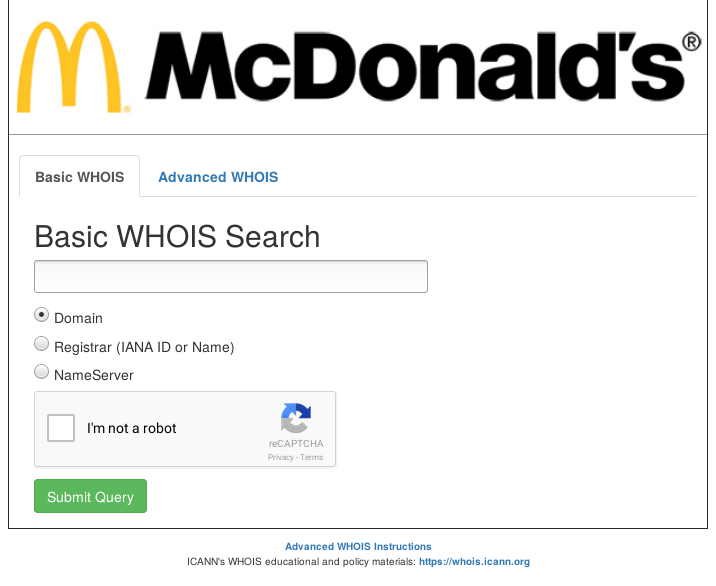 The Whois service of the .MCDONALDS allows the identification of the owner, although, as presented in the file for ICANN, the .MCDONALDS is not intended to be an open extension.
What is interesting in the Whois is the joint management of different departments:
First contact: IP Division, Eric William Gallender, Senior Intellectual Property Counsel
Second Contact: Marketing Division, Anja Morrison Carroll, 'Senior Director, Marketing'
In the motivations of the company to benefit from a .MCD and a .MCDONALDS coming from a public document, we can find the will to recreate confidence. McDonald's highlights its gTLD, ccTLD and preventive registrations (.XXX, among others).
McDonald's has many commitments:
provide an easy and intuitive reference and access point for internet users;
represent authenticity thus promoting user confidence;
direct internet users to locally relevant information and products;
use appropriate geographic names to connect with internet users in the relevant regions ;
potentially use IDNs to enable customers to interact in their native language;
enhance security and minimise security risks by implementing necessary technical and policy measures;
strengthen brand reputation and user confidence by eliminating user confusion; and
prevent potential abuses in the registration process reducing overall costs to businesses and users.
However, on May 2nd, 2017, a signed letter from VP Global Brand Marketing, Colin Mitchell announces the end for both TLDs.
There is no reason mentioned to justify this request and McDonald's IP has not responded to the requests for communication.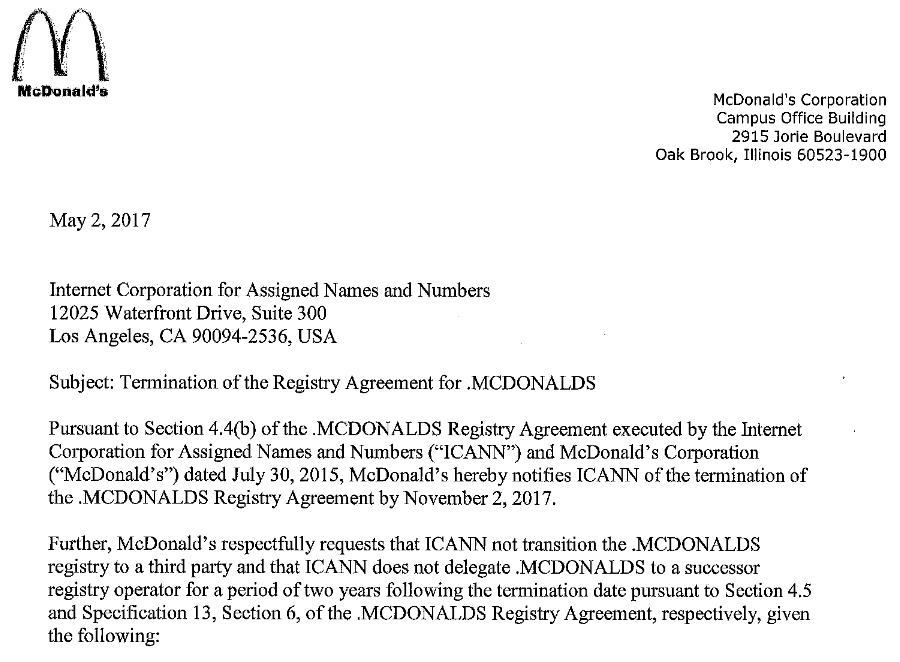 McDonalds has failed to do with these two TLDs more than a trusted place for the websites: a .BRAND, yes, but it's necessary to have a real strategy of deployment and use.
Creating a .BRAND with the only purpose of defending the intellectual property doesn't seem, in that light, to be a successful tactic. The success of a .BRAND is mainly conditioned by an effective strategy, and its development has to anticipate far ahead, its use, as well as its implications regarding the digital and commercial communication.